Valor in Service
Cops for Cops
We honor fallen police officer and their parents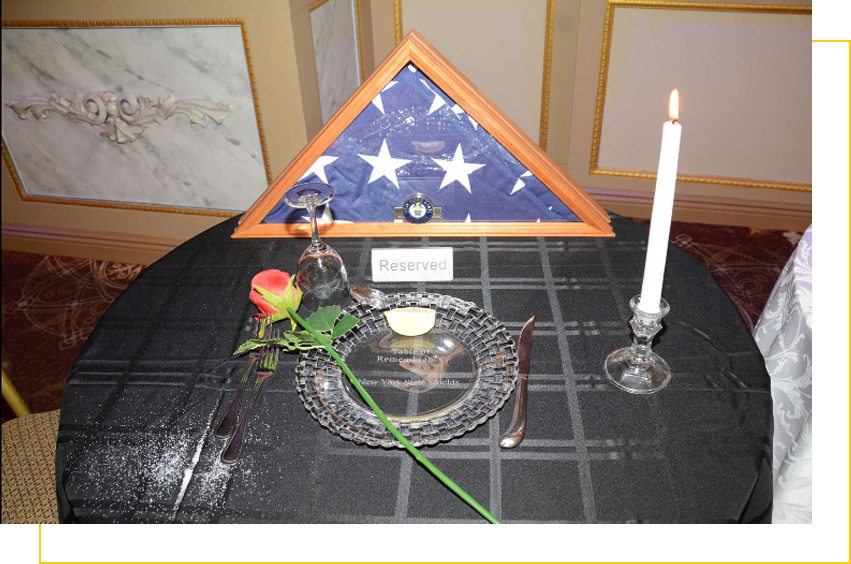 Welcome
to the New York State Shields
The New York State Shields Inc. is a law enforcement fraternal organization comprised of active and retired law enforcement officers throughout New York State and members of the community who support our cause. Established in 1990, the primary mission of the Shields is to honor the Memories of law enforcement officers who have lost their lives in the line of duty. The Shields also honors active officers who have performed heroic acts of bravery and outstanding work in furtherance of our goal to foster positive and professional working relations among the various law enforcement agencies that serve and protect our communities.
Every day the men and women of law enforcement put their lives on the line to protect this great country of ours.
Unfortunately, too many make the ultimate sacrifice of their own lives. The New York State Shields was founded by visionaries who sought to address the void, recognizing the parent survivors who have lost a son or daughter in the line of duty while offering a strong support system to their families.
Throughout the year, the New York State Shields hosts various events to honor these hero's where honorees are presented with a variety of awards for heroic acts performed in the line of duty.
This very special solemn event has become one of the most highly visible and recognized events in law enforcement. It is held in commemoration leading up to National Police Memorial Week festivities held in Washington, D.C.
The highlight of which is a candlelight vigil and a memorial service where the President of the United States address surviving families and law enforcement personnel from across the nation.
The NYS Shields is recognized as a 501c3 tax-deductible charitable organization with membership open to law enforcement officers nationwide. Since its inception, the NYS Shields, Inc has become one of the most visible and widely respected fraternal organizations throughout the New York area. The organization would not stand tall without the help and support from our membership and those who volunteer their time to carry out its mission.
For membership information, please find us on Facebook under NYS Shields
Our Hero of the Month Award is awarded for individual heroic acts of bravery. The Unit Citation is awarded for outstanding teamwork by members of a law enforcement agency. The Purple Heart Medal is present to officers shot or wounded in the line of duty. The Distinguished Service Cross is awarded to officers who have endured serious life-threatening injuries sustained while in the brave performance of duty. These events culminate with our Memorial Breakfast in May, where the families of slain officers who have made the supreme sacrifice are presented with the NYS Shields Medal of Valor in memory of those officers who have been killed or died while in the performance of duty.